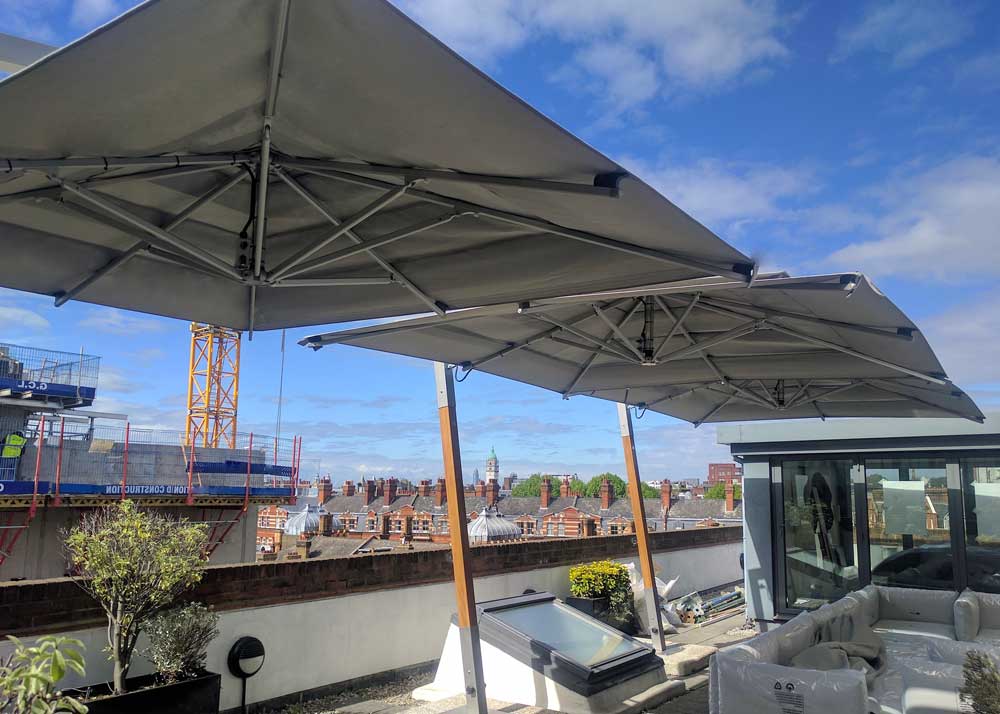 The Hurricane Cantilever
This elegant and durable cantilever umbrella or side arm parasol as they are also known is ideal for all domestic and commercial applications due to its robustness. Designed with a 93x93mm sloping back mast and manufactured from high-grade aluminium, stainless steel parts and fixings and then reinforced with natural timber wrapped around the side mast to add to the beauty of the umbrella. You also have the option of having a rotating feature so that the umbrella can be rotated in different directions to catch the sun. This model is even available with heat and light if required, which is often not the case with other cantilevers on the market.
This model is available in a variety of sizes:
Square:  2.0 x 2.0m, 2.5 x 2.5m, 3.0 x 3.0m, 3.5 x 3.5m and 4.0 x 4.0m
Octagonal: 2.5m, 3.0m, 3.5m and 4.0m dia 
Rectangular: 4.0 x 3.0m. 
Twin versions of this model are also available on request.

Louvered membrane versions are also available on all sizes. This model really does add to the outdoor culture and can be used all year round!
Typhoon Cantilever Umbrella
This model is designed with a straight mast, set back behind the opened canopy so that it can be located closer to a building if required and also offers maximum space beneath the canopy. This works really well for slightly more exposed or coastal locations. This cantilever is manufactured using high-grade aluminium and stainless steel and has a strong and durable 100x100mm mast with an all-over anodised finish. This is really easy to open, close and store when not being used. Other colour options for the framework is available on request. This model also has an optional rotational feature, and is also available with heat and light, so that you can make the most of your outside space all year round.
This model is available in a variety of sizes:
Square: 2.5 x 2.5m, 3.0 x 3.0m, 3.5 x 3.5m and 4.0 x 4.0m
Octagonal: 2.5m, 3.0m, 3.5m and 4.0m dia
Rectangular: 2.5 x 1.9m, 3.0 x 2.25m, 3.5 x 2.6m and 4.0 x 3.0m.
Louvered membrane versions are also available.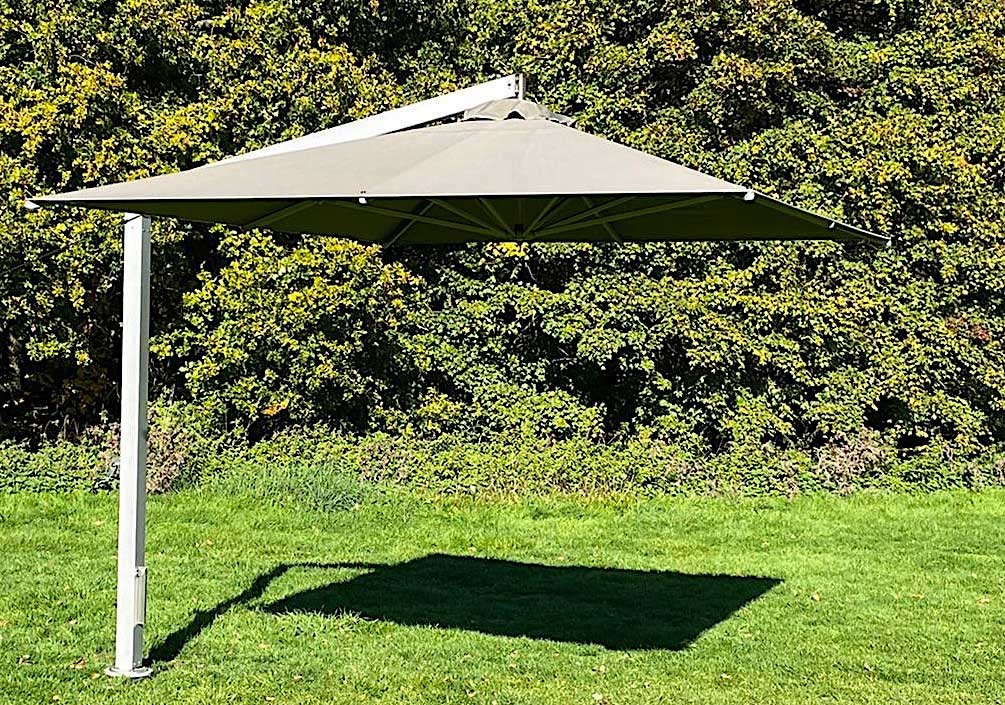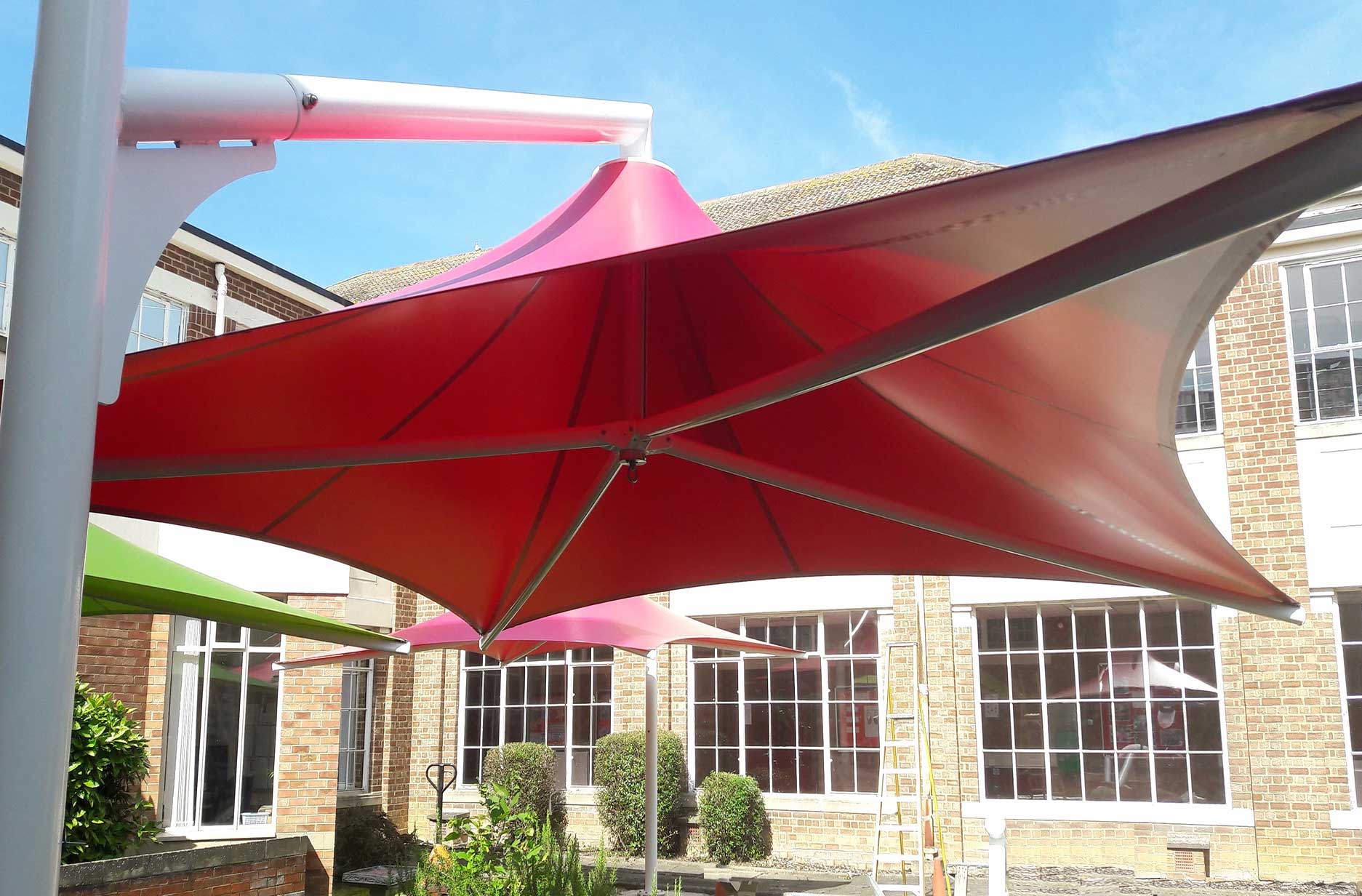 Cyclone Cantilever Umbrella
The Cyclone cantilever model really is in a class of its own. Developed for full commercial use in mind, this in our opinion is the most durable cantilever umbrella that you will find on the market. The framework is currently available in white or anthracite colours as standard and is manufactured using 140mm dia high strength stainless steel and marine grade fixings, which means almost no maintenance is required on this amazing side mast umbrella. The membranes are produced in an architectural grade, high tensile PVC FR treated fabric that is available in a range of colours. This model can be rotated in four directions if required and is available in a range of impressive sizes Due to its specific use, the Cyclone can only be installed by way of in-ground sleeve. Designed for use in extremely exposed locations and up to 70mph winds.
Heat and light is also available with this model.
Square: 3.0 x 3.0m, 3.5 x 3.5m and 4.0 x 4.0m
Octagonal: 4.4m, 5.0m and 5.6m dia
Rectangular: 4.0 x 3.0m.
Things to bear in mind when choosing a cantilever / side arm umbrella
You should always consider the right product for the right location and bear in mind what you want to achieve with your umbrella
When not in use or weather warnings are issued, you should always close your umbrella, pleat the fabric and secure the canopy using your wrap strap. Remember the Cyclone model can stay open longer!
We can advise you of the best way to install your umbrella, the ideal direction to face the canopy and how to care for your beautiful umbrella
Cover bags can also be used, mainly for domestic customers who wish to store them away during the winter
Cantilever umbrellas or side arm umbrellas as they are also known, are ideal for covering seating areas, hot tubs, pools, and children's play areas or just to create shade and shelter whilst you relax outside or serve customers for those commercial clients.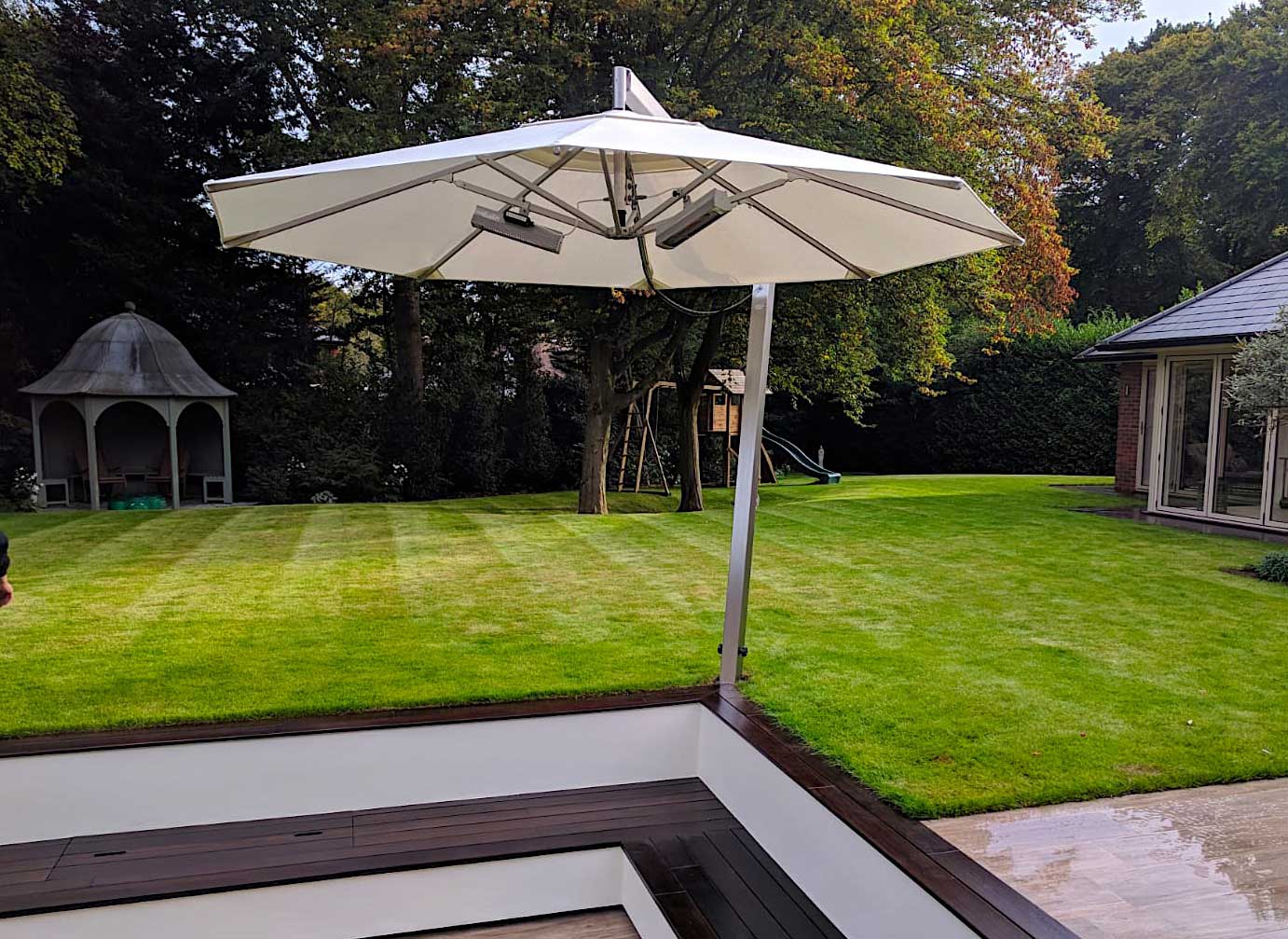 Perfect for gardens, hotels, cafe environments and easy to manoeuvre!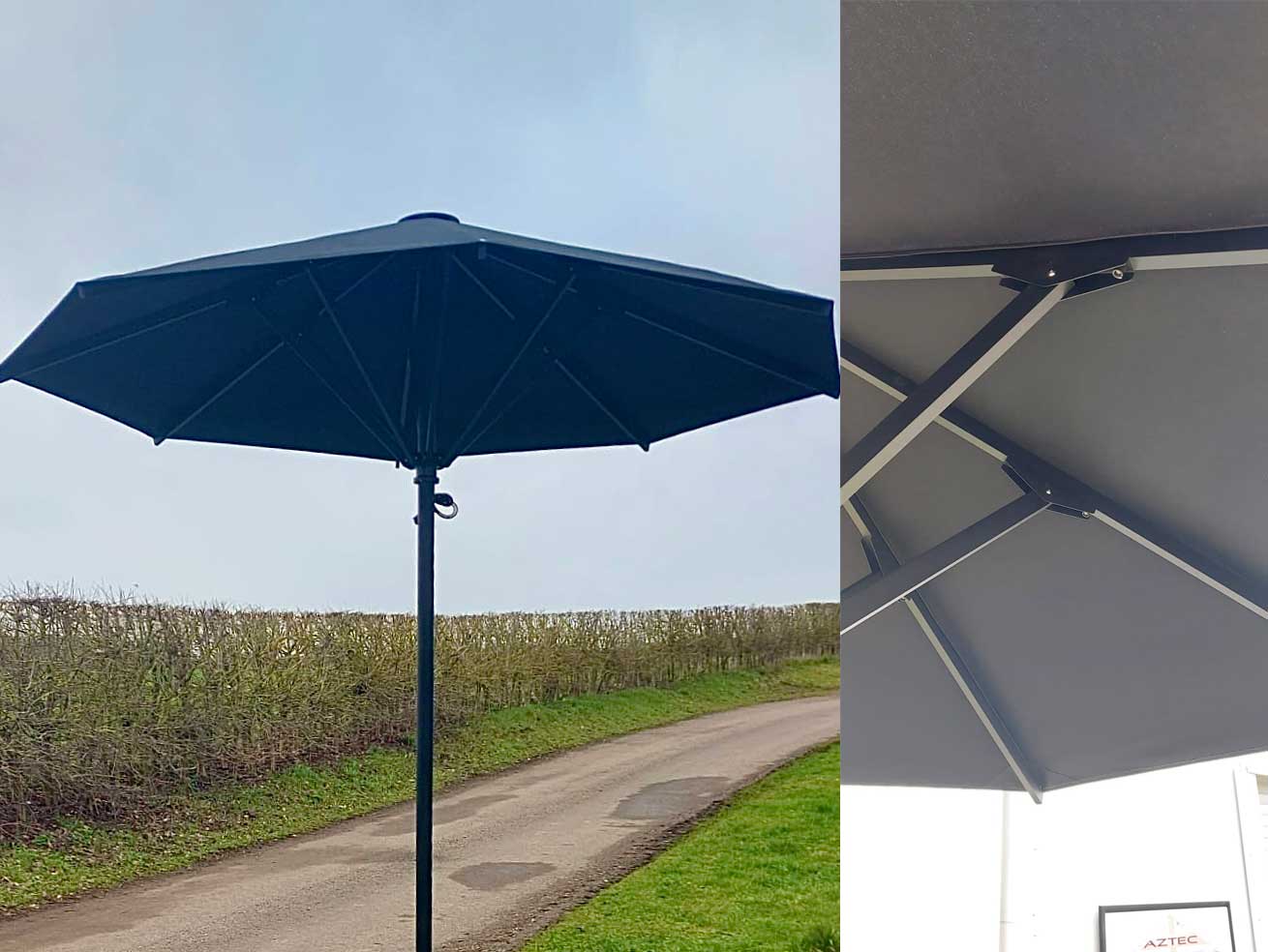 Cafe style parasols for daily use
Our own UK-manufactured light weight parasols are perfect for use in cafes and other hospitality environments or for use in your home garden. Due to their strong and robust design and sturdy 50mm dia mast, these parasols are exceptionally strong but also light enough to be easily carried if required. 

The framework is available in black, dark grey, silver or white as standard, but other colours are available on request. The acrylic fabric is available in dark grey, black, cream or dark green and burgundy as standard, with other colours available on request.