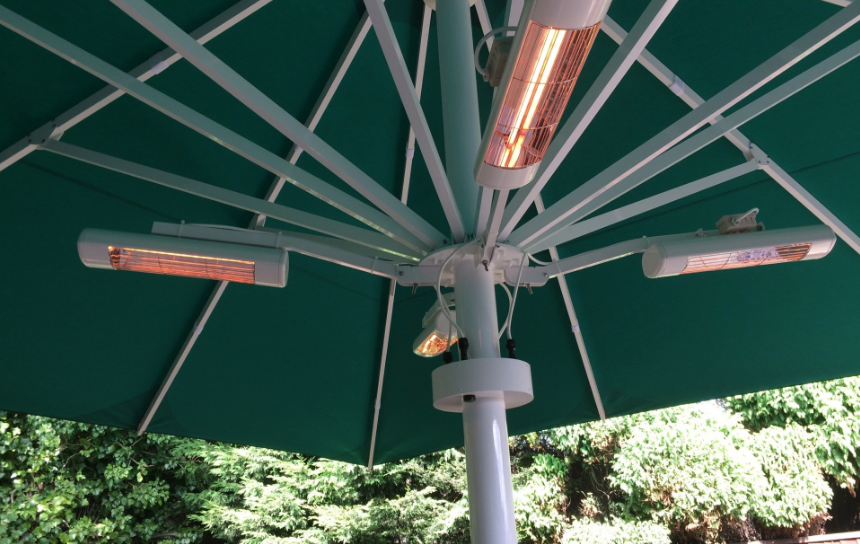 Infrared Umbrella Heating Kits
Our Aztec's are available with reliable and robust heaters which come in white, black or silver as standard, however we can have these coated to a different colour if required.
Heaters are available in either 1.0 or 1.5kw options per heater. The number of heaters required is determined by the size of your umbrella. The heaters can be controlled either by a switch inside the building, or via a push for heat button on the umbrella itself.
All heaters are fitted as standard onto fold down arms, although we can also offer alternative fixings.
LED Parasol Lighting Kit
Lighting is available in cool or warm white as standard but also available in other colours if required. The lighting is fitted onto the umbrella arms and offers an attractive light spread beneath the umbrella.
You can either hardwire your lights with a switch inside the building or you can use our remote control kit.
We can also supply bespoke or alternative lighting options, therefore please contact us for more information.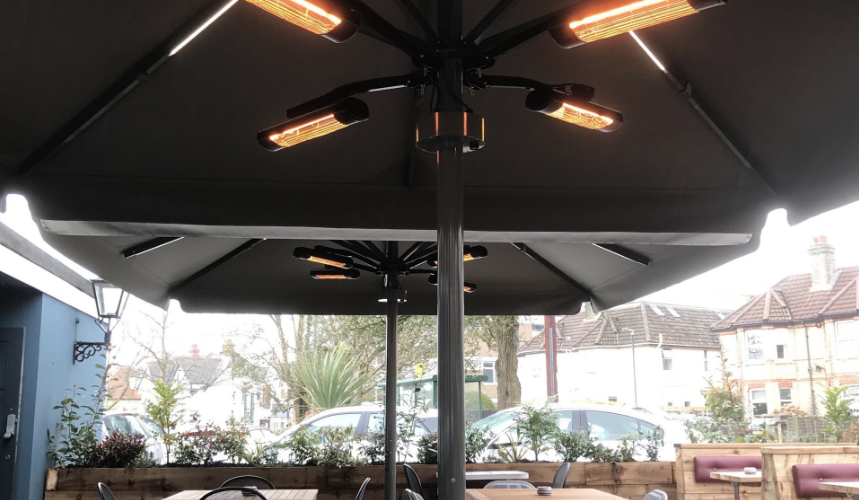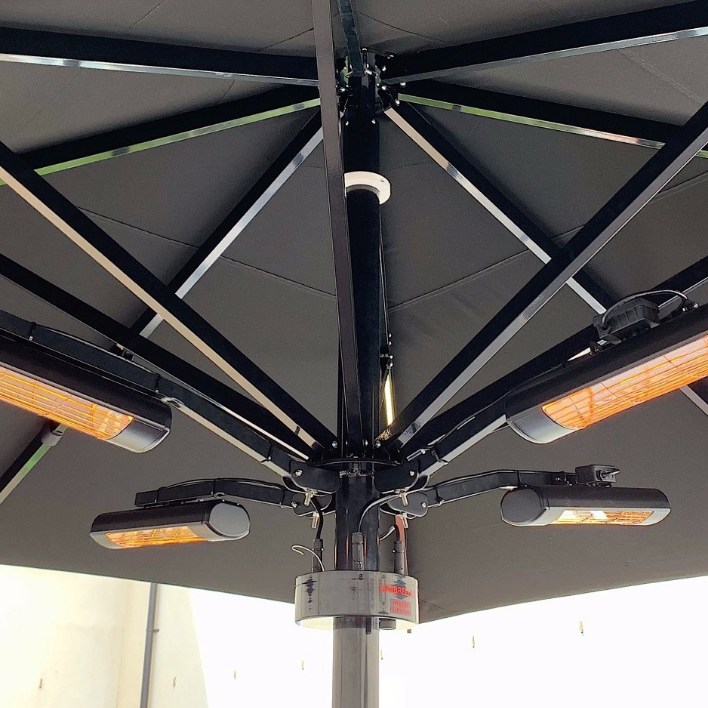 Umbrella Heat & Light Extras
We also offer additional accessories for your heat and light kit:
Push For Heat Button: This gives you the option to operate the heaters from the actual umbrella rather than a switch inside the building or wall.
Timer Delay Switch: This is normally attached to the push for heat button, allowing you to choose the length of time your heaters stay on for.
Auto Cut Off: This is a safety feature which cuts the power to the heaters once the umbrella starts to close. This is fitted as standard.
Key Switch: Occasionally there will be times, particularly in commercial environments where staff will need to switch heaters on via a removable key to ensure customers cannot operate them at certain times.
Lighting Remote Control: We also offer an option to operate your lights via a hand held remote rather than a static switch inside the building.
Our in-house team can also accommodate any other accessories you may require.
Installation of your electrical supply
We are happy to discuss your project with you and offer advice where needed. We can supply fitting instructions to assist you with this aspect of the project, alternatively we are also happy to recommend one of our accredited installation teams to undertake works for you.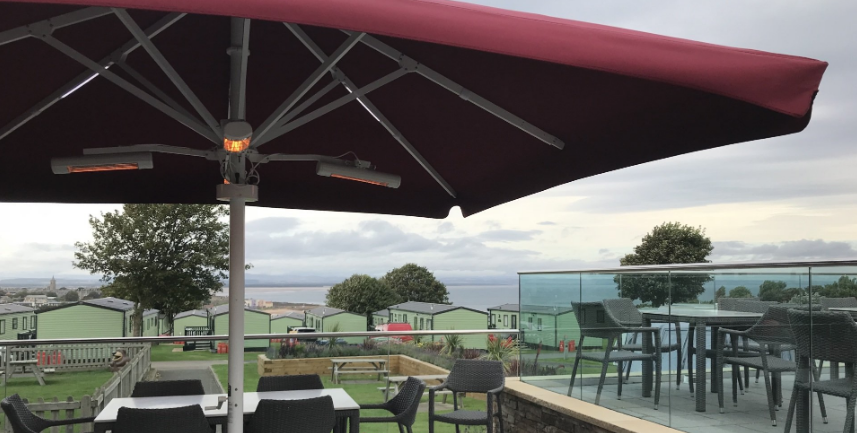 Umbrella Side Curtains
Our parasol systems are also available with our very own custom manufactured side curtains. These curtains fix to the top of the umbrella arms (when in the open position) and hang down to be attached to the floor by either secure fixings or weights. This turns your umbrella into a marquee type structure.
Curtains are available with or without clear view windows. We can manufacture the windows in a range of sizes depending on your requirements. Roll Up Doors are required in order to gain access in and out of the umbrella outdoor 'room' and can be zipped or Velcro. We can also supply these in any colour option.
Umbrella Guttering
Our umbrella systems are also available with our custom manufactured umbrella guttering systems. These gutters fix to the top of the umbrella arms (when in the open position) and hang between two or more umbrellas.
Guttering can help create a larger covered area. As well as being able to hang between umbrellas, they can also hang between host structures such as fences and buildings.
We recommend having umbrellas with valances when using guttering.
Parasol Branding
Any of our umbrellas can be branded with your own choice of image, text or even a picture. We can print on the valances, the main section or both. By adding bespoke branding to your umbrella helps increase awareness of your business, brand and products.
The size of the print will depend on what you would like to be printed. Our helpful sales team can advise you on this as well as offer you layout plans so that you can get an idea of what your umbrella will look like once finished. Generally we will require EPS artwork, high resolution PDF and font choices.
Please let us know if you would like to receive additional information on our printing.
Additional Parasol Accessories
There are many other accessories which we can assist you with your large garden parasols:
Outdoor Speakers
External Soft Seating
Wooden Bench Seating
Planters (to cover portable bases)
If you have any ideas you would like to discuss please feel free to contact us and we will be happy to help.
The perfect accessory to accompany your garden or terrace furniture!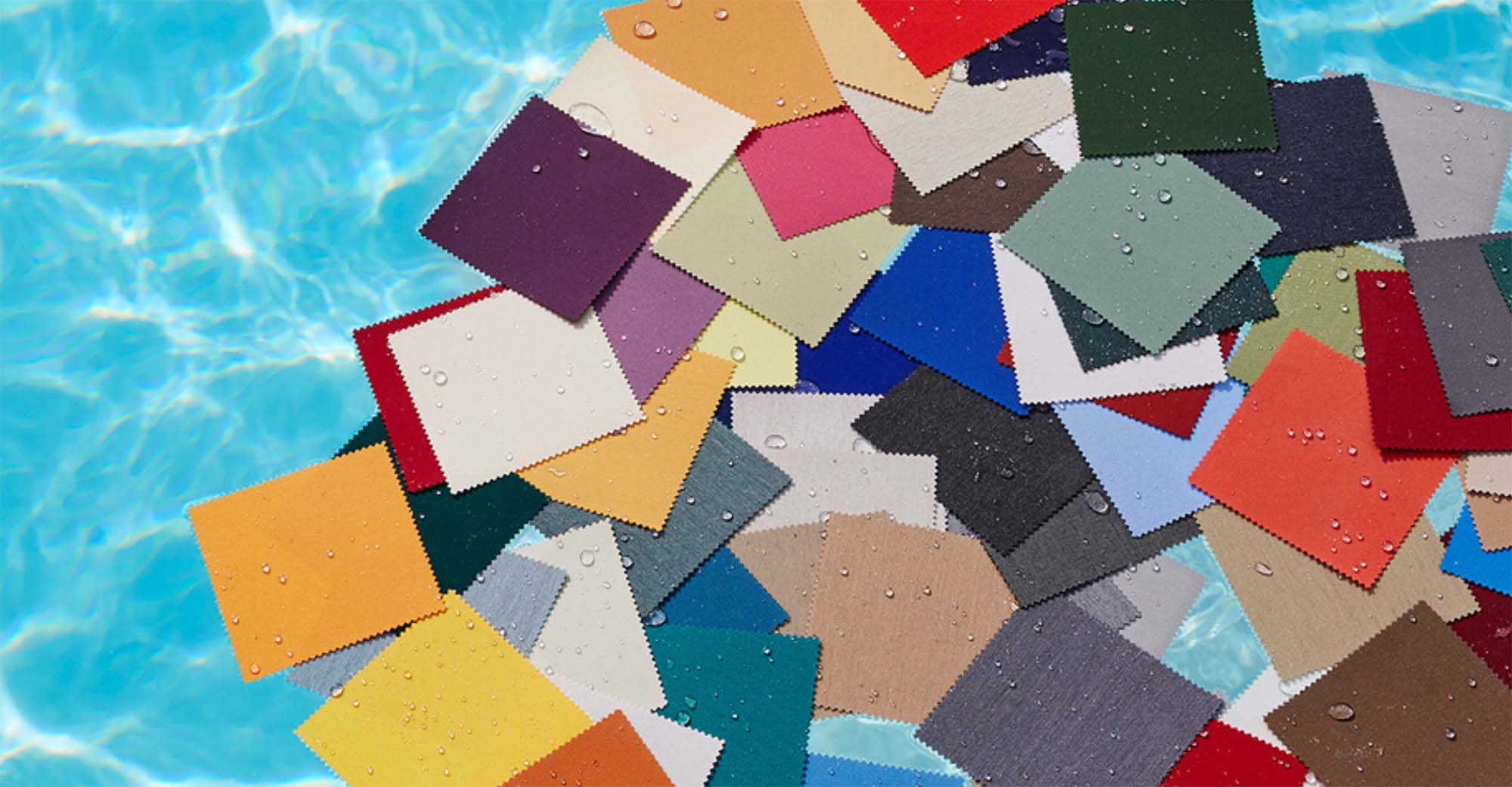 Aztec Umbrella Fabrics from Dickson
The fabric used on our commercial quality umbrellas is designed to be used all year round in the harshest of environments. The umbrella covers not only look stylish, but also have many benefits such as being anti fade, anti mildew, and much more. The fabric is also kept under tension with our special sprung loaded plunger ends to keep the fabric looking lovely all the time. Our covers are available in a huge range of colours and patterns, which gives you the opportunity to choose an umbrella that perfectly compliments your home or business.
Fabric Benefits
Our covers are made from solution dyed acrylic and is perfect for all year round outdoor use.
UV resistant
Water resistant
Anti fungal
Anti fade
290-320 g/m2
Fire retardant treatment is also available on request
180 years of fabric expertise!
Please note we can also produce our covers in other brand fabrics if required.